Mineralogical research
Mineralogical research
Mineralogical department is one of the oldest departments at the institute and takes a leading role in the sphere of mineralogical research of mineral resources.
21 specialists, including 5 doctors of sciences and 7 candidates of sciences are working in the department. They are proficient in techniques of mineralogical analysis.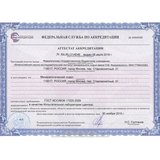 The Department was accredited by Federal Accreditation Service and is eligible to carry out work of different level of difficulty that are relevant not only in geological field, but also in other fields of the national economy (metallurgical, food, pharmaceutical, light, environmental industries and etc.)
Main objectives of the research:
Determination of phase (mineral) composition and textural and structural characteristics of rocks, ore, soil, ground, bottom sediments, metals, alloys, mining and processing wastes and solid phase deposit environment;
Determination of physical, physical-chemical, chemical (technological) features of minerals;
Study of peculiarities of crystallographic structure of natural and technogenic objects.
Main directions of the department activity:
Mineralogical support of prospecting and mining works on all types of solid natural resources.
Predictive mineralogical and technological assessment of solid natural resources.
Mineralogical support of technological works, including determination of morphostructural composition of original samples of ore, rocks and technogenic commodities, quality control over products of enrichment and chemical-metallurgical processing, market products.
Mineralogical support of environment works.
Determination of mineralogical and mineralogical-petrographic composition of rocks and ore of natural and technogenic genesis that are used in different fields of the national economy.
Mineralogical department has a well-established system of quality management of mineralogical works (UKARM) and incorporates more than 254 guidance documents into its activity (Industrial Standards, controlling documents, methodological guidelines, methodological recommendations approved by NSOMMI).
Methods of mineralogical analysis:
Visible-light microscopy;
Quantitative X-ray analysis;
X-ray computed (micro)tomography;
Luminescent spectroscopic method.
---
Contacts:
Ozhogina Elena Germanovna
Head of Mineralogical Department, Doctor of Geology and Mineralogy, Active member of RANS
tel. +7 (495) 950-35-12, +7 (495) 951-74-49
vims-ozhogina@mail.ru
Gorbatova Elena Aleksandrovna
Deputy Head of Mineralogical Department
tel. +7 (495) 950-34-07
lena_gorbatova@mail.ru
Iospa Anastasia Vladimirovna
Chief engineer – quality manager
tel. +7 (495) 950-34-85
ada_heals@mail.ru; vims-rentgen@mail.ru