Magazine "Rational Exploitation of Mineral Resources"
Magazine "Rational Exploitation of Mineral Resources"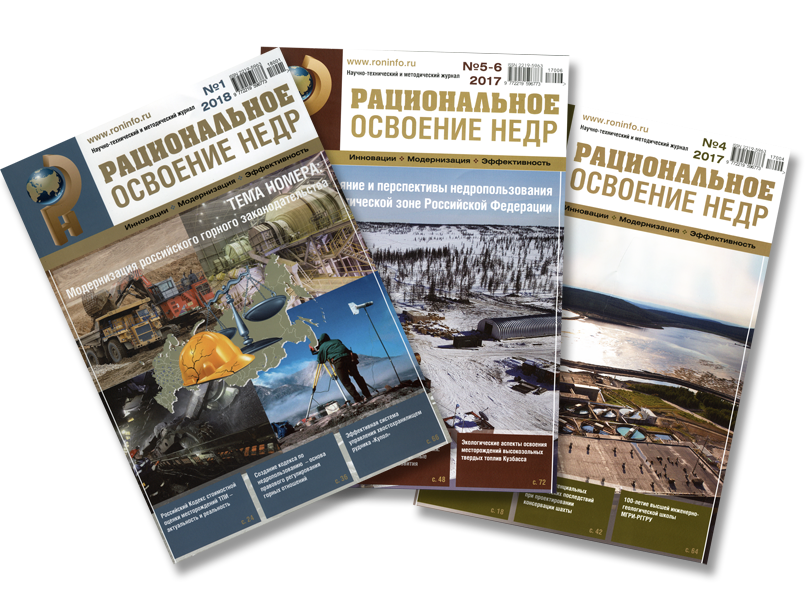 The magazine discusses a wide range of questions of subsoil use, including legal and methodological regulations, economic strategy and innovative development of the Russian mining complex. Special feature "News from Central Development Commission" publishes exclusive materials about the work of CDC on consideration and coordination of project documentation on exploitation of deposits, comments and recommendations from CDC members and leading specialists from the department of assessment methodology of VIMS mining projects. Issues of rational and complex deposit exploitation, deep processing of minerals, creation and integration of innovative geotechnology and equipment, ensuring of industrial security as well as ecological aspects of subsoil use are covered in other features. In addition to this, the magazine publishes analytical materials on mineral bases and commodity markets, information on important events in the sphere. .
The target audience of the magazine is the supervisors and leading specialists of subsoil use organizations, project organizations, engineering, consulting and law firms, businesses from the sphere of subsoil use, academics.
The magazine is widely distributed during regular CDC seminars, thematic exhibitions and conferences. Frequency of the publication is 6 issues per annum.
Chief Editor
Sergey Alekseevich Aksenov, Deputy Head of the Federal Agency on Subsoil Use
Deputy Chief Editor
Viktor Nikolaevich Sytenkov, professor, doctor of technical science, head of the Department, FSBI VIMS
Subscription department
tel. +7 (945) 950-31-60
mail@roninfo.ru
Advertisement department
Chicherina Antonina
tel. +7 (495) 650-31-60
chicherina@roninfo.ru
On publications
tel. +7 (495) 950-31-60
polyantseva@roninfo.ru
Magazine site: roninfo.ru